LIVING THE OREGON DREAM
We've all heard that with real estate, the most important factor is "location, location, location". On these pages you will find properties where LOCATION IS THE STANDARD WE SEEK; rivers, steams, and view properties looking out to tree-covered mountains or over vast valleys of green, or perhaps a deeply forested glade with a private pond. If it represents the unique "Oregon Dream"" it earns a place in these pages.

Southern Oregon is special. Ask me...I grew up in Wisconsin. After graduating I moved to California and got married. For 15 years we lived on the San Francisco peninsula (Burlingame). Then in 1985 we discovered Southern Oregon.

This is what we found: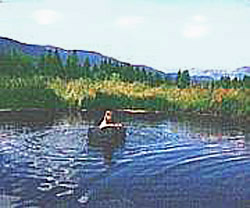 THE CLIMATE
We enjoy four distinct season, but none of them harsh. Our climate is more like Northern California, yet without the intense summer heat. Summer days average a pleasant 85 degrees, and evenings are balmy until dusk when it cools off to refresh the day to come. Winter dips into the 30's or less at night but the days average 50 degrees.
SNOW
Snow is welcomed because it is so beautiful and remains for such a short time. Fall is a blaze of color with a scent of wood smoke in the crisp air. Spring is an explosion of wildflowers and often arrives early in the year. And, Josephine County boasts one of the lowest wind velocities in the country. Annual rainfall averages 30 inches.
THE PEOPLE
We're mostly from California in the southern part of the state. Most of us moved for the beauty and, if not retired, are willing to do what it takes to stay and make a living. Wages are low, so consider that if you're younger. But for those retiring, it doesn't get much better. There are many well-educated, over-qualified folks here, and they'll usually have time to say "hi"
ACTIVITIES
Rafting, fishing and hunting are favorite activities just minutes from town. Day trips include the Oregon Coast, giant redwoods, Crater Lake National Park, Jacksonville National Historic District and numerous area lakes. Grants Pass is on the Rogue River, surrounded by the Siskiyou Mountains. The Applegate River flows through the Applegate Valley, a picturesque area of hay fields ringed by mountains. Vineyards dot the rolling hills, evidence of a maturing world-class wine-growing region.
LIFESTYLE
Low crime rates, low tax rates, and no traffic snarls highlight our semi-rural lifestyle. The pace is slower, the people friendly and there's plenty to see and do. And if your home environment is important then we'll have what you're looking for in property to fulfill your Oregon Dream.

""If it's the setting" -- See Us Soon!

TO AREA PAGE
YOU TO CAN LIVE THE OREGON DREAM
LET MY LOCAL AREA KNOWLEDGE HELP FIND YOURS