| | |
| --- | --- |
| INSIDERS GUIDE TO GRANTS PASS OREGON | |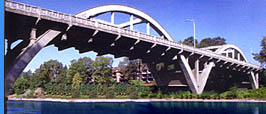 THE ROGUE RIVER:
A Civilized Wilderness Grants Pass, Oregon is the gateway to one of America's premier whitewater rivers. Folks who love to fish, rafters, kayakers and river enthusiasts will enjoy the diverse recreational opportunities the Rogue offers. For all its splendid scenery and abundant wildlife, Grants Pass offers visitors excellent accommodations and easy access by air, auto or motorcoach.

WEATHER
Grants Pass is located in the "sun belt" of Southern Oregon. Our ideal climate provides a minimum of precipitation, unlike our neighbors to the west. Our average rainfall is just under 30 inches and we boast a very gentle wind velocity, averaging only 3.2 mph. Visitors can plan on warm, sunny days and cool, dry evenings from mid-May through mid-September.

MAJOR ATTRACTIONS

The Rogue River
A source of food for settlers, an inspiration to movie-makers and a home to wildlife, the Rogue River has an exciting past and a promising future. The recreational opportunities of the river are many: jetboat trips, rafting, kayaking, fishing, water skiing, swimming, gold panning or just sitting and drinking in the scenic beauty. Experienced river outfitters serve as guides to fishing enthusiasts and rafters alike. The river is diverse enough to provide the level of excitement you seek, whether it be a relaxing float or a heart-pounding whitewater adventure. Restaurants, motels and lodges along the river offer visitors a chance to enjoy briefly what we savor year round. For information on river adventure providers contact the Visitor Information Center, 1-800-547-5927 or write to P.O. Box 1787, Grants Pass, OR 97526; for Rogue River backpacking information, write Siskiyou National Forest, P.O. Box 440, 200 NE Greenfield Rd., Grants Pass, 97526 (phone 541-479-5301); Bureau of Land Management, P.O. Box 1047, Medford, Oregon, 97501.

CRATER LAKE
Crater Lake
For Information Call:
541-594-2211
The State's only National Park, half the fun of Crater Lake is the magnificent drive up to it. At the rim of the crater, visitors can marvel at the sight, hike around the lake or relax in the lodge. Each evening a program is put on by the National Park Service and employees of the lodge. Seasonal boat trips around the lake's 25-mile shoreline are also offered. The park, which is open all year, is a favorite of cross country skiers. Road crews work tirelessly to keep the road to the lodge open throughout the heavy snow season, while the north entrance and rim drive are closed.

OREGON CAVES
Oregon Caves
Cave Tour Information:
541-592-2100 or
541-592-3400
Only 50 miles from Grants Pass, Oregon Caves National Monument is located high in the Siskiyou Mountains east of Cave Junction. In addition to year-round cave tours, a rustic chateau with a dining room is part of the monument for the relaxation and enjoyment of visitors. For children under 6, who are not permitted in the Caves by government regulation, child care is provided.

APPLEGATE TRAIL INTERPRETIVE CENTER
Applegate Trail Interpretive Center
Offers a glimpse into the colorful history of this rugged area through the stories of the pioneer settlers, the naming of Grave Creek, the discovery of gold, the impact of the stageline, and the building of the railroad. Located in Beautiful Sunny Valley, Come visit the Center, Old Town Hall, The famous Covered Bridge and more!

THE REDWOODS
The Redwood Empire stretches from San Francisco into Southern Oregon. Visitors to Grants Pass who want to see the Redwoods may take the Redwood Highway, U.S. 199, southwest out of town heading towards Crescent City, California. Before reaching the coast, Jedediah Smith Redwood State Park will mark their entry into the Redwood Empire. The park provides campgrounds, hiking trails and access to one of America's cleanest waterways, the Smith River. Lush, dense fern growth on the forest floor with the towering Redwoods above guarantees visitors to the park an experience unique to our area.

PERFORMING ARTS

Rogue Music Theatre
Offering music theatre under the stars, Rogue Music Theatre at Rogue Community College, has Broadway-style shows with full orchestra playing July through August, plus winter shows. With such smash hits as "Oklahoma!," "Annie Get Your Gun" and "Sound of Music", the presentations feature professional actors, plus a wealth of local talent. The summer shows are held in the outdoor Rogue Concert Bowl with audiences seated on blankets and folding chairs on the gently sloping earth. (541-479-5541). Barnstormers: The Barnstormers Little Theatre, the oldest community theatre in the state, presents classic and contemporary stage offerings, leaning heavily toward comedy. (541-479-3557)
From mid-July to mid-August the Chamber of Commerce and local merchant supporters present a series of free concerts in Riverside Park with music ranging from jazz to classical. Concerts, featuring local musicians, are scheduled for Tuesday evenings. (541-779-2820).

FESTIVALS & EVENTS
Amazing May is the season opener. Festivities are scheduled throughout the entire month of May. Events include the Grants Pass Museum of Art Exhibit. For information contact the museum at (541) 479-3290. The Hot Air Balloon Tether is featured at the All Sports Park, where tethering and regular flights are available. For information contact Bill at (541) 582-2200. The Third Annual Native American Arts Festival is held at the Riverside Park on May11-12. More information may be obtained from Jack at (541) 479-8770. Man's best friend(s) will be looking their best for the All Breed Dog Show and Obedience Trials, beginning at 8am, May 18-19 at Indian Mary Park. For more information call from Lucille at (541) 479-9694. On May 19th the Third Annual Antique and Collectibles Street Faire takes place. Step back in time with an interpretive buggy ride on H Street between 5th and 6th Streets, or listen to the one man band on the corner of 5th and H Streets. Contact Yvonne at (541) 479-6491 for more information.

The whole Memorial Day weekend is devoted to the annual Boatnik. This is kicked off by a parade terminating in Riverside Park, the starting point for white-water hydroboats racing 35 miles down the Rogue River and back. Activities in the park include magic and art shows, crafts, art and food booths, sky divers and water-ski shows. Horse Racing: Grants Pass Downs at Josephine County Fairgrounds features high caliber Pari-mutuel horse racing each Friday, Saturday, Sunday, holidays and Memorial Day through July 7. (541-476-3215)

County Fair: Josephine County Fair at the fairgrounds, a mid-August old-fashioned county fair with baking, crafts and hobby contests. Includes livestock auctions, entertainment, carnival rides and even pig races. A favorite attraction is the four-wheel drive pull. (541-476-3215). Renaissance Fair: You can see knights and their fair ladies at the Renaissance Fair held for two days each year in Riverside Park. Prizes are given for the most colorful and authentic costumes. Jedediah Smith Mountain Man Rendezvous: A pre-Labor Day tradition for more than 20 years. Step back in time at this multi-day pioneer festival in Sportsman's Park. Authentic clothing and muzzleloaders turn the park into a pioneer settlement. For a complete list of festivals and events, ask for our Events Calendar. Applegate Trail: 1996 marks the 150th anniversary of the Applegate Trail. This memorial event will cover eight counties in Oregon with a total reenactment of the 1846 wagon train. The local celebration is called Heritage Days.

UNIQUE ATTRACTIONS
Growers' Market
P.O. Box 573, Attn: Marty Fate
Grants Pass, OR 97526
541-476-5375
Growers' Market is the largest open air agricultural market in Oregon. Throughout the long growing season over a hundred entrepreneurs offer everything from vegetables, berries, fruits and herbs to bedding plants, shrubbery, baked goods and handicrafts. Location: south on Sixth St., left on "L" St. (New location planned for 1992 season). Hours of Operation: Sat. from 9 am to 1 PM, March 15 through Thanksgiving, and Tues. (same time) starting in June. Call for market times and location for the 1996 season. Food Services: Vendors on site, restaurants within 6 blocks. Parking: Ample for RV/Motorcoach. Prices: Free.

WILDLIFE IMAGES REHABILITATION AND EDUCATION CENTER
11845 Lower River Rd.
Grants Pass, OR 97526
541-476-0222
Originally started as a rehabilitation station for birds of prey, now also includes a program to aid and nurture wild animals who have been injured or orphaned. Guided tours allow groups to view this wildlife and learn about each type of animal or bird. View bears, cougars, raccoons and many other resident creatures. Location: 13 miles out of Grants Pass. I-5 exit 58 downtown on Sixth St., right on G St., to Upper River Road, to Lower River Road. Hours of operation: Open to the public for daily tours at 11am and 1pm by reservation only. Call ahead for tour arrangements. Food Services: Picnic area only. Prices/Booking: Donations gladly accepted. Gift shop also on site.

MYRTLEWOOD PRODUCTS, INC.
1785 Dowell Road
Grants Pass, OR 97527
541-479-6664
Group woodworking tours of the facility. Watch rare myrtlewood as it is taken from its raw state and transformed into a polished retail item. To see these craftsmen at work, call ahead for a free tour. There it also a large retail shop on site for purchasing the finished products. Location: From I-5, south on Sixth St., right at the Cave Junction/Crescent City Rt. #199, left onto Dowell road. Factory sits on the corner of Dowell and U.S. 199. Hours of operation: Tours: Mon.-Fri., 9 am to 4 pm (12-12:30 lunch break - no tours). Gift Shop: Mon.-Sat., 9 am - 5:30 pm, Sun. 11 am to 4 pm. Food Service: Nearby. Parking: Ample for RV/Motorcoach. Special: They will ship purchases for groups U.P.S., no handling fee.

HELLGATE JETBOAT EXCURSIONS
953 S.E 7th st.
Grants Pass, OR 97526
541-479-7204 or 800-648-4874
Hellgate Jetboat Excursions has what you are looking for...excitement, scenery and history. You an experience the thrill and adventure of an exciting jetboat trip down the famous Rogue River. There are three excursions to choose from; a 2-hour scenic canyon tour; 5-hour roughwater; or a 4-hour dinner trip served down river at an old homestead overlooking the river.

APPLEGATE TRAIL INTERPRETIVE CENTER
Applegate Trail Interpretive Center
Offers a glimpse into the colorful history of this rugged area through the stories of the pioneer settlers, the naming of Grave Creek, the discovery of gold, the impact of the stageline, and the building of the railroad. Located in Beautiful Sunny Valley, Come visit the Center, Old Town Hall, The famous Covered Bridge and more!

BRIDGEVIEW WINERY
4210 Holland Loop Road
Cave Junction, OR 97523
(541) 592-4688; FAX 592-2127
Bridgeview Vineyards is nestled in the Illinois Valley of southern Oregon's coastal mountains. Our 74-acre vineyard is densely planted in the European style. We produce award winning wines in the varietals of Pinot Noir, Merlot, Chardonnay, Pinot Gris, Gewurztraminer and Riesling (Blue Moon Riesling). Visit the Winery and Tasting Room and enjoy the beautiful settings around our waterfalls, lakes and vineyards. Enjoy the great hospitality at our B&B, "Kerbyville Inn", in Kerby on Hwy 199. Visitors are welcome from February through December, 11-5 daily.

ART & ANTIQUES
Grants Pass Museum of Art -
Displaying classic and contemporary art including local artist's work. 229 SW 'G' St.

The Wiseman Gallery Works-
from a cross section of the nation's fine and contemporary artists. Exhibits change every three weeks. Rogue Community College.

Antiques and Collectibles -
Grants Pass has over 25 antique and collectable shops to explore. Maps with listings of the items each carries are available from the Grants Pass Area Association of Antique Dealers. Write to 220 S.W. 6th St., Grants Pass, OR 97526 or call the Information Center for assistance.

HISTORICAL SITES
The historic Schmidt House at the corner of 5th and "J" Streets. In addition to its past significance, built in the 1890's of locally made brick, only open now for events. Located next door is the Research Library which contains many interesting collections of books, photos and maps. The reading and conference room of the research library are open from 10 am to 4 pm, Tues. - Fri. For more information on this house and other historical landmarks, phone 479-7827. for a complete list of historical residences, ask for "Walking Tour of Historic Grants Pass."

R.V. FACILITIES

For a complete list of private and public RV and campground facilities, please call the Visitor Information Center at 1-800-547-5927 or stop by. There are a variet of sites to meet your needs. Many are located on the banks of the Rogue River and are quite popular, so to avoid disappointment, please reserve early during the busy season.

SCENIC DRIVES
Redwood Hwy., U.S. 199

Lake Selmac: Fishing, boating, swimming, camping, groceries, boat rentals, licenses, horseback riding, Selma-23 Miles. Kalmiopsis Wilderness Area: Hiking, camping, wildlife, wildflowers, lakes, creeks, Illinois River. For more information: Illinois Valley Ranger District, P.O. Box 389, Cave Junction 97523. Kerbyville Museum: Early pioneer history, artifacts on logging and mining. Kerby - 26 miles. No admission charge. Open Mon. - Sat., 10 am - 5 pm, Sun., 1 pm - 5 pm, May 15-Sept. 15. Call 541-592-2076 for more information.

Cave Junction: Gateway to the Oregon Caves, Illinois Valley State Park on the Illinois River - swimming and picnicking, visit the Illinois Valley Visitors Center or call 541-592-2631. Home of the Wild Blackberry Festival. Cave Junction - 28 miles. Winery Loop: Enjoy tours and tastings at popular Illinois Valley wineries and vineyards - loop starts 5 miles east of town.

Oregon Caves: Marble cave formations, guided tours, chateau lodging, dining room. Caves National Monument - 20 miles from Cave Junction.

Rough & Ready Botanical Wayside: Unusual plant life, wildflowers, Rough and Ready Creek. Cave Junction - 7 miles south of town. Jedediah Smith Redwoods State Park: Smith River, short hiking loops, camping. 75 miles from Grants Pass. Smith River: U.S. 199 follows the river just south of the border to Jedediah Smith State Park. Crescent City: Public beach access, dining, lodging, camping. 86 miles from Grants Pass.

Brookings: Harris Beach State Park, camping, lodging, dining. 25 miles north of Crescent City on U.S. 101. Redwood National Park: 106,000 acre park, camping, hiking, trails, rivers, elk, world's tallest trees.

MERLIN-GALICE AREA
Merlin & Galice
Hellgate Canyon: Scenic viewpoint overlooks Hellgate Canyon and the Rogue River 250 feet below. Hellgate - 10 miles. Indian Mary Park: Large, scenic park and campground, beach access, boat ramp, showers, baseball diamond, picnic sites, playground. Indian Mary Park - 12 miles. Galice: The small town of Galice is a popular luncheon stop for fishing enthusiasts and rafters on their way down the Rogue River. Galice - 15 miles. Grave Creek Bridge: The bridge marks the beginning of the "Wild and Scenic" section of the Rogue, from which three-day raft trips begin. It marks the end of one-day raft trips. Bridge - 18 miles.

ROGUE RIVER HIGHWAY
Savage Rapids Dam: During the seasonal runs, steelhead and salmn can be seen climbing the fish ladders at the dam. Dam - 6 miles.

UPPER AND LOWER RIVER ROAD
Whitehorse Park: Take G Street west to Upper River Road, which turns into Lower River Road leading to Whitehorse Park. The lovely park offers picnic sites, hiking, beach access, showers and campgrounds. 10 miles. Griffin Park: Large, steel bridge spans the Rogue. After crossing, turn left on Riverbanks Road and follow to Griffin Park. The park features picnic sites, beach access, boat ramp, camping and a playground. Turn left onto Griffin Road. Continue on Riverbanks Road to Redwood Highway. 15 miles.

WILLIAMS HIGHWAY
Applegate Valley: Take Williams Hwy. 238 South through the Applegate Valley. Stop at area wineries and the Applegate Dam. Continue on into Jacksonville. Take Old Stage Road north to Gold Hill and stop at the Oregon Vortex off Hwy. 234. Get on Interstate 5 north to Grants Pass. Round trip - 85 miles.

INTERSTATE 5
Covered Bridges/Historic Sites: Take Interstate 5 south and exit at the city of Rogue River. At the end of the exit ramp, turn left under the overpass and then left again on main street. Turn right on West Evans Road and take it into the town of Wimer to see the covered bridge. Continue your trip by driving northwest on Pleasant Creek Road for 3.5 miles to West Evans Creek Road north for 1.2 miles. Turn left on Ditch Creek Road and continue for 7 miles to Grave Creek Road, west, and the Sunny Valley covered bridge. I5 at exit 76 is the former route for Hudson Bay fur trappers, the Applegate Trail and the Oregon/California stage stopover and is still a popular stop for travelers to dine or overnight.

OTHER INFORMATION
Jackson County Airport: Major commercial airline arrival and departure, 22 miles from Grants Pass (contact airlines directly). Josephine County Airports: Facilities for light aircraft to corporate jets; Merlin Airport FBO, Grants Pass Aviation, 541-474-0665; Illinois Valley Airport, 541-474-5285.

Ground Transportation: Grants Pass Cab, 541-476-6444; Airport Transit Service, 541-479-3217 for service to airport; Starline Limousines, 541-476-7827 for service to all Oregon points; Greyhound/Trailways bus lines, 541-476-4513; Amtrak, 541-844-2822 (Klamath Falls) with shuttle service to Grants Pass via York Tours (541-779-1068).

Auto Rentals: Budget Car and Truck Rental Center, 541-471-6311

Recreation Dept: Youth & adult recreation program information at 541-474-5285.

CLICK HERE TO THE GRANTS PASS SECTION


For Business, Lodging, Real Estate & Recreation In This Town/City, Please Use Menu Above.