| | |
| --- | --- |
| GRANTS PASS COMMUNITY PROFILE PAGE - OREGON | |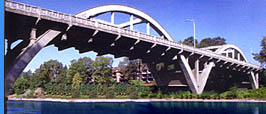 Geographic Location

Grants Pass, elevation 935 feet, is located on the banks of the scenic Rogue River in Southwestern Oregon. It is surrounded by the foothills of the Cascade, Siskiyou and coast mountain ranges, and is only 85 miles from the Pacific Ocean. Grants Pass is the county seat of Josephine County, the headquarters for the Siskiyou National Forest and the northern gateway to the Redwood Empire of California. Crater Lake, a U.S. National Park, is 100 miles northeast, and the Oregon Caves, a U.S. National Monument, are 50 miles to the southwest. Numerous outdoor recreational opportunities abound in whitewater rafting, fishing, hunting, skiing, hiking, etc.

Population

City of Grants Pass 20,255 Josephine County 72,000 est.

Climate
Grants Pass is known for its mild climate. Average annual maximum temperature is 68.0, annual minimum 40.9. Average annual precipitation is 29.5 inches. Snowfall is minimal - 2.3 inches per year and in many years is non-existent.

Recreation
Josephine County offers five public golf courses, one with a driving range. Indoor miniature golf, two bowling alleys, one outdoor and one YMCA indoor swimming pool with a weight room, five tennis sites with nine courts, six racquetball courts, 12 playgrounds, 14 gymnasiums, one roller skating rink, a sportsman club with rifle range open to the public, and many other activities are available.

The city is within two hours of ocean beaches and mountain skiing; one hour to many high lakes and streams for fishing, boating, etc., and within minutes to river fishing, rafting/boating, camping, hunting, biking, fairgrounds and parks. Amazing May; is a month long eclectic mix of fun filled events such as the Boatnik, American Indian Arts Festival, Hot Air Balloon Rides, Art Shows, Growers Market and there is a 5-day county fair and pari-mutuel horse racing during the summer; Boatnik Festival on Memorial day weekend, the Muzzleloaders and Mountain Men Rendezvous during late august, and the reenactment of the 1846 wagon train adventure called Heritage Days are just a few of the regularly scheduled annual events in this area.

Cultural
Musical and cultural programs are presented locally by the Rogue Music Theatre, Barnstormers Little Theater Group and the Rogue Music Theatre. The Grants Pass Museum of Art presents changing art displays. There are also art displays featured in the Wiseman Gallery at the Rogue Community College. The city of Grants Pass is also represented by all major civic groups. Grants Pass is 50 miles from the renowned Oregon Shakespearean Theatre in Ashland which offers year-around Shakespearean and contemporary performances on two indoor stages and one outdoor Elizabethan stage. The Peter Britt Summer Music Festival in Jacksonville is 45 miles away.

Medical Services
The Three Rivers Hospitals are full-service, community owned health care facilities. Three Rivers offers an array of services not usually found outside of metropolitan areas. Included in the hospital's services are a homelike birthing center, the area's only maternity service and American Medical Response, the hospital' critical care ambulance. Medical specialties currently represented on the medical staff of the hospital include: allergy, dentistry, dermatology, emergency medicine, family and general practice, home health, infectious diseases, internal medicine, neurology, obstetrics/gynecology, occupational health, ophthalmology, oral/maxillofacial surgery, orthopedic surgery, osteopathy, otolaryngology, (ear, nose and throat), pathology, pediatrics, psychiatry, radiology, surgery (colon-rectal, general, thoracic, and vascular) and urology.

If you are new to our area, or would like to be referred to a doctor, please call the Physician Referral Service.

Churches And Schools
Schools: There are 10 elementary schools, a number of private, parochial, independent, vocational and pre-schools. Three middle schools, three high schools, and Rogue River Community College are also available in Grants Pass. Southern Oregon State College, a four year institution, is located in Ashland.

Churches: More than 77 churches in Josephine County represent a majority of denominations.

Transportation
Rogue Transportation offers a city bus route and taxi service. Greyhound has a terminal on Agnes Ave as well as one at the Grants Pass Airport, which has a small airstrip near Merlin . The City of Grants Pass is within 30 minutes of a major air terminal in Jackson County which serves both counties. An industrial-business-recreational airport in Merlin is five minutes from Grants Pass.

Motels

At least twenty-nine motels with approximately 1579 rooms and eleven Bed and Breakfast Inns within the city limits serve a large seasonal tourist population.

Agriculture and Natural Resources
Bulbs, vegetables, dairy products, beef, wheat, hay, timber and plywood, sand gravel and sulfite deposits.

Labor
Grants Pass serves as the commercial and job center for most of Josephine County and parts of adjoining counties. The total labor force November, 1989, was 26,370.

General
Taxes: There is a state income tax, but no sales tax in Oregon. Oregon law requires that all property, real and personal, be assessed at 100% of the true cash value. The tax is determined by multiplying the assessed value of the property by the tax rate for the code area in which the property is located.

Banks, Savings & Loan Associations, Credit Union: The institutions total six banks, five savings and loans, and one credit union, with total assets in excess of $350 million.

Radio and Television: Five Grants Pass area radio stations - KAJO, , KLDR, KAGI, KFMJ, KRWQ and KCNA AM & FM.

Four Medford television stations, KTVL, KOBI, KDRV, and public station, KSYS. Information in this guide was gathered from numerous sources. To the best of our knowledge it was accurate at the time of printing.

CLICK HERE TO THE GRANTS PASS SECTION

For Business, Lodging, Real Estate & Recreation In This Town/City, Please Use Menu Above.