| | |
| --- | --- |
| GRANTS PASS VISITORS INFORMATION PAGE - OREGON | |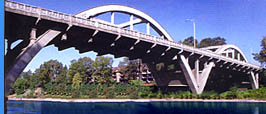 Grants Pass, located on the legendary Rogue River, is a pleasant city surrounded by stately mountains and ancient forests. Grants Pass is the perfect place to experience some of nature's greatest wonders. Discover the many unique recreational opportunities available including jetboating, rafting, fishing, hiking and wildlife viewing on the scenic Rogue River. The city is often referred to the "whitewater rafting capital" of Oregon and over 25 outfitters offer rafting adventures in Grants Pass and nearby Merlin.

A visit to the abundance of antique stores, specialty shops and art galleries located in our historic downtown is one of many ways to spend an enjoyable afternoon in Grants Pass. However you choose to experience it, the Rogue will charm, challenge and delight you!

Grants Pass and Rogue Valley are famous for the wonderful climate!

ART GALLERIES

Grants Pass Museum of Art –
Located in the heart of Grants Pass on historic "G" Street, the museum enhances lives by offering art experiences that stimulate the senses and intrigue the intellect, displaying classic and contemporary art including local artist's work.

The Fire House Gallery –
Artwork by local, regional, national, and international emerging artists which challenges preconceived ideas and attitudes is featured in Rogue Community College Firehouse Gallery. A variety of art educates and inspires viewers from the college and community. First Friday Art Night receptions are held monthly at the gallery.

The Glass Forge Studio –
The Glass Forge Gallery and Studio manufactures and sells hand blown glass, specializing in Venetian style art glass. The style is most apparent in the many wine glasses blown at The Glass Forge. Vases, bowls, perfume bottles, and one-of-a-kind sculptural glass art are also prominently displayed. The use of color, movement, form and composition are key elements in each piece of work created at the studio. There is a gallery for display and sale of products next to the studio. Additionally, sales are conducted on a regional and national scale. Individual items range in price from $15 to $5000.

The Wiseman Gallery –
Aesthetic, cultural, and social works are among the art displayed by the Wiseman Gallery. Exhibits range from works by local artists to national artists of emerging importance. A variety of media and styles are presented to inspire and educate the viewer. Annual exhibits include: student and faculty shows, and the National Women's History Month juried exhibit, "Celebrate Northwest Women". The gallery also coordinates Black, White & the Blues, an annual art auction and dance held in cooperation with the Grants Pass Museum of Art to raise 'art awareness' funds for both art exhibitors.

Antiques & Collectibles -
The Jewel of the Pacific Northwest, we have the largest concentration of antique shops in Southern Oregon. Each business possesses its own unique character, specialty items and services. Contact Visitor Information Center at 1-800-547-5927 for listings and maps.

ATTRACTIONS

The Rogue River
Grants Pass, Oregon is the gateway to the legendary Rogue River, one of the original wild and scenic rivers. Folks who love to fish; raft, jet boat, and kayak along with all other river activities, will enjoy the diverse recreational opportunities the Rogue offers. For all its splendid scenery and abundant wildlife, Grants Pass offers visitors excellent accommodations and easy access by auto, motor coach, or air.

A source of food for settlers, an inspiration o movie-makers and a home to wildlife, the Rogue River has an exciting past and promising future. The recreational opportunities of the river are many: jetboat trips, rafting, kayaking, fishing, water skiing, and swimming, gold panning or just sitting and drinking in the scenic beauty. Experienced river outfitters serve as guides to fishing enthusiasts and rafters alike. The river is diverse enough to provide the level of excitement you seek, whether it is a relaxing float or an exhilarating whitewater adventure. Restaurants, motels and lodges along the river offer visitors a chance to enjoy briefly what we savor year round. For information on river adventure providers contact the Visitors Information Center at 1-800-547-5927 and for Rogue River backpacking information contact the Bureau Land Management at 541-479-5301.

HISTORICAL SITES

Enjoy a walk through time as visitors and residents share the legends of Historic Grants Pass. Visitors will enjoy a tour of our Pioneer Cemetery Memorial Drive, visit historic homes of The Croxton House, The Alf House, The Judson House and our famous Schmidt House. Visit the Schmidt House located on SW 5th Street, downtown, for a tour of Josephine County's Historical Society. Contact 541-479-7827 for tours. For a complete list of historical residences, ask for maps on our "Walking Tour of Historic Grants Pass."

Applegate Trail Interpretative Center –
Experience the colorful history of this rugged area through the stories of the pioneer settlers, the naming of Grave Creek, the discovery of gold, the impact of the stageline, and the building of the railroad. Located in beautiful Sunny Valley, come visit the Center, Old Town Hall, the famous Covered Bridge and more! Contact 1-888-411-1846 for further information or visit: www.rogueweb.com/interpretive

Historic Haines Apple Tree
Located in Merlin Oregon, this tree is Oregon's 2nd oldest apple tree. It was planted by the Haines family in the either 1852 or 1854 (accounts vary), the tree stood throughout the Indian wars. Read More: www.rogueweb.com/haines

Howling Acres Wolf Sanctuary –
As you stroll along the trails of shredded bark, you immediately begin to sense the calmness and comfort of this natural setting. Howling Acres is a humane, spiritual, educational sanctuary, dedicated to the preservation of abandoned and injured wolves. Howling Acres provides a safe shelter, offers educational tours, recreational activities, special events and live demonstrations. Located in Williams, OR. Contact 541-846-8962

Pottsville
The home of historic gas & steam engines, buildings and more of the past. It is located on Pleasant Valley Road, off of Merlin-Galice Hwy. Pottsville was founded by Eugene "Debbs" Potts a former Mayor of Grants Pass and State Senator from Grants Pass in 1961 to 1985. "An accumulation of the past" is what you will find here. Home of thousands of items commemorating Oregon's history. Read & See more about Pottsville in our recreation section...

Wildlife Images Rehabilitation & Education Center –|
Wildlife Images is dedicated to the preservation of native North American wildlife. In the continuing rehabilitation and education programs, an essential and mutually benefiting connection between wildlife and humankind is made. Through our efforts, people are given the opportunity to experience, understand and relate to our natural world. Experience a tour of our world-famous wildlife sanctuary where care and treatment to injured or orphaned wild creatures is brought to life. One of the highlights of the tour is the Eagle flight enclosure where you will witness the splendor and feel the emotion of our nation's symbol, the Bald Eagle. Visit www.wildlifeimages.org or contact 541-476-0222 for further information.

Josephine County Historical Society (Grants Pass area) at: www.webtrail.com/jchs/

PERFORMING ARTS

Grants Pass offers a uniquely diverse selection of performing art theatres varying from treasured Musicals to favored Comedies along with remembered Documentaries & the exploration of Modern performances. Reminiscing favorite Broadway style shows, enjoying invigorating community youth productions, to reliving audience involvement plays, may the list go on?
SEE OUR RECREATION SECTION...

FESTIVALS & EVENTS

Amazing May is the season opener. Festivities are scheduled throughout the entire month of May. Events include the Native American Arts Festival; Spring Wine Stroll, Antique & Collectible Street Fair, Boatnik, the Wild Rogue Balloon Festival, and many more. For a list of May events please visit www.amazingmay.com or call 1-800-547-5927 for further information.

Art Along the Rogue A premiere fall event. This unique event introduces an art and music festival at its best, introducing nationally-known and local pastel street artists along with local and regional musical entertainers and art displays, in an event that promises to be as inspiring as it is fun. This three-day event is a must see! Visit www.artalongtherogue.com or call 1-800-547-5927 for more exciting details.

Back to the 50's Car Show is a summer event not to be missed. This summer celebration includes a downtown 50's car cruise, a dance, live music and much more for the entire family to enjoy. Call 1-800-547-5927 for further information.

Bear Fest in Grants Pass, Oregon, is a celebration honoring the area's most prized inhabitants - the black bear. Our bedecked, larger-than-life bears start out as plain fiberglass figures. They are then magically transformed by local artists into colorful, embellished creatures that are publicly displayed on the downtown streets for all to see, touch, and enjoy throughout the summer months. Besides its obvious entertainment value, Bear Fest was organized to raise funds and support for nonprofit organizations in Grants Pass. There are sixty-two of the wildest bears you are likely to encounter. Larger than life-size bears, artfully interpreted by local artists as fun and friendly public art, are displayed on the streets and sidewalks of beautiful downtown Grants Pass. Each of the designed bruins include an adorable "bear cub" as a companion. Visit www.bearfest.org for more details.

Boatnik is an event for the entire family to enjoy memorial weekend. The event is kicked off by a parade terminating in Riverside Park, the starting point for whitewater hydro boats racing 35 miles down the Rogue River and back. Activities in the park include magic and art shows, crafts, art, clothing and food vendors. Visit www.boatnik.com or call 1-800-547-5927 for further information.

Concerts in the Park is a great setting for a family picnic! Annually this event provides a unique variety of local music performances free to the public. Limited food vendors, beverages and other snack treats for the kids are available throughout the concert. Every summer from July to August performances will take place every Tuesday evening starting at 6:30pm at Riverside Park. Contact 1-800-547-5927 for more information and concert performers.

First Friday Art Night Enjoy an evening stroll through downtown Historic "G" and 6th Street viewing a variety of local talents in our art Galleries and Museum. Occurring on the first Friday night of the month (excluding January), Grants Pass comes alive with music and art. There are various shops, galleries and restaurants open late displaying local art and musical talent. Event begins at 6pm and ends at 9pm.

Grants Pass Saturday Artisan & Crafters Market
A festive open-air market featuring some of the finest artisans from around the Rogue Valley. View a wide variety of exquisite, handmade items including: glass art, pottery, jewelry, metal art, photography, garden art, furniture, textiles, watercolor, mixed media and much, much more. We are co-located next to Grower's Market on 5th St between E & F Streets every Saturday from May through October between the hours of 9AM to 1PM.. For further information contact: D. Gypsy Dessert or Darla Stacy at (541) 660-9000 or saturday.art@hotmail.com

Grants Pass Growers' Market
"We grow it, cook it, and make it, just for you." Rising above Oregon's premier open-air agricultural market, one hears many languages; Spanish, German, Japanese, Russian and French; all boasting of the bounty of Southern Oregon. Providing the community with a wide variety of locally produced specialties, the atmosphere is relaxed, festive and fun. Discover Grants Pass Growers' Market. Open every Saturday (rain or shine) from March until the last weekend before Thanksgiving, 9am – 1pm at the corner of 4th & F Streets in downtown Grants Pass. And now a NEW INDOOR Winter Market at the Josephine County Fairgrounds, beginning in December and running through the end of February. Contact 541-816-1144 or email marketmanager@growersmarket.org for details and further information.

Horse Racing at Grants Pass Downs at Josephine County Fairgrounds features high caliber Pari-mutuel horse racing each Saturday, Sunday through the 4th of July weekend (approx). For hours call: 541-476-1639

Hellgate JetBoat Excursions –
Hellgate Jetboat Excursions has what you are looking for...excitement, scenery and history. You an experience the thrill and adventure of an exciting jetboat trip down the famous Rogue River. There are five excursions to choose from; a 2-hour scenic canyon tour; a 4-hour Champagne Brunch trip, a 3-hour Lunch Trip, a 4-hour Dinner Trip, served down river at an old homestead overlooking the river, or a 5-hour Whitewater Adventure. Contact 541-479-7204 or 800-648-4874 for further information.

Josephine County Fair is held in mid- August and is a great summer event. This old-fashioned county fair includes baking, crafts, and hobby contests along with livestock auctions, entertainment, carnival rides and even pig races. Please visit www.jocofair.com

Magical Musical Holiday Murals These holiday murals light up Grants Pass along both 6th and 7th Street annually, mid November to December 31st. Donated by the fine works of Fiber optic Lighting, 20 murals decorate downtown, each 5ft x 10ft uniquely designed giant holiday card, weighing 400 pounds, specializes in its own sound system along with playing its own holiday tune. Who says you can't stroll through downtown Grants Pass during the holidays listening to Jingle Bells? Visit: www.magicalmurals.com

GENERAL INFORMATION

Geographic Location
Grants Pass, elevation 935 feet, is located on the banks of the scenic Rogue River in Southwestern Oregon. It is surrounded by the foothills of the Cascade, Siskiyou and coast mountain ranges, and is only 85 miles from the Pacific Ocean. Grants Pass is the county seat of Josephine County, the headquarters for the Siskiyou National Forest and the northern gateway to the Redwood Empire of California. Crater Lake, a U.S. National Park, is 100 miles northeast, and the Oregon Caves, a U.S. National Monument, are 50 miles to the southwest. Numerous outdoor recreational opportunities abound in whitewater rafting, fishing, hunting, skiing, hiking, etc.

Population
City of Grants Pass 25,790 (est)
Josephine County 79,600 (est.)

Climate

Grants Pass is known for its mild climate. Average annual maximum temperature is 68.0, annual minimum 40.9. Average annual precipitation is 29.5 inches. Snowfall is minimal - 2.3 inches per year and in many years is non-existent.

Recreation

Josephine County offers five public golf courses, one with a driving range. Indoor miniature golf, two bowling alleys, one outdoor and two indoor swimming pools, one at the YMCA and one at Club NW. Five tennis sites with nine courts, six racquetball courts, 12 playgrounds, 14 gymnasiums, a gymnastics center (Gymnastics By Design), a sportsman club with rifle range open to the public, and many other activities are available.

The city is within two hours of ocean beaches and mountain skiing; one hour to many high lakes and streams for fishing, boating, etc., and within minutes to river fishing, rafting/boating, camping, hunting, biking, fairgrounds and parks.

Cultural

Musical and cultural programs are presented locally by the Rogue Theatre, Barnstormers Theater, Stardust Repertory Theatre, Connect the Dots Theatre, and the Rogue Music Theatre. The Grants Pass Museum of Art presents changing art displays. There are also art displays featured in the Wiseman Gallery at the Rogue Community College and the Fire House Gallery downtown. The city of Grants Pass is also represented by all major civic groups. Grants Pass is 50 miles from the renowned Oregon Shakespearean Theatre in Ashland which offers year-around Shakespearean and contemporary performances on two indoor stages and one outdoor Elizabethan stage along with the Oregon Cabaret and Artattack Theatre Productions. The Peter Britt Summer Music Festival in Jacksonville is 45 miles away as well. See our Recreation Sectionn.....

WEATHER

Grants Pass is located in the "sun belt" of Southern Oregon. Our ideal climate provides a minimum of precipitation, unlike our neighbors to the west. Our average rainfall is just under 30 inches and we boast a very gentle wind velocity, averaging only 3.2 mph. Visitors can plan on warm, sunny days and cool, dry evenings from mid-May through mid-September.

Medical Services

The Three Rivers Hospitals are full-service, community owned health care facilities. Three Rivers offers an array of services not usually found outside of metropolitan areas. Included in the hospital's services are a homelike birthing center, the area's only maternity service and American Medical Response, the hospital' critical care ambulance. Medical specialties currently represented on the medical staff of the hospital include: allergy, dentistry, dermatology, emergency medicine, family and general practice, Hospice Care, home health, infectious diseases, internal medicine, neurology, obstetrics/gynecology, occupational health, ophthalmology, oral/maxillofacial surgery, orthopedic surgery, osteopathy, otolaryngology, (ear, nose and throat), pathology, pediatrics, psychiatry, radiology, surgery (colon-rectal, general, thoracic, and vascular) and urology.

If you are new to our area, or would like to be referred to a doctor, please call the Physician Referral Service.

Churches And Schools
Schools: There are 10 elementary schools, a number of private, parochial, independent, vocational and pre-schools. Three middle schools, three high schools, and Rogue River Community College are also available in Grants Pass. Southern Oregon State College, a four year institution, is located in Ashland.

Churches: More than 77 churches in Josephine County represent a majority of denominations.

Transportation
Josephine Community Transit 541-474-5452 offers a city bus route and taxi service. Greyhound has a terminal on Agnes Ave as well as one at the Grants Pass Airport, which has a small airstrip near Merlin . The City of Grants Pass is within 30 minutes of a major air terminal in Jackson County which serves both counties. An industrial-business-recreational airport in Merlin is five minutes from Grants Pass.

Lodging
SEE OUR LODGING SECTION

For a complete list of private and public RV and campground facilities, please call the Visitor Information Center at 1-800-547-5927 or stop by. There are a variety of sites to meet your needs. Many are located on the banks of the Rogue River and are quite popular, so to avoid disappointment, please reserve early during the busy season.

Agriculture and Natural Resources
Bulbs, vegetables, dairy products, beef, wheat, hay, timber and plywood, sand gravel and sulfite deposits.

Labor
Grants Pass serves as the commercial and job center for most of Josephine County and parts of adjoining counties. The total labor force November, 1989, was 26,370.

Taxes: There is a state income tax, but no sales tax in Oregon. Oregon law requires that all property, real and personal, be assessed at 100% of the true cash value. The tax is determined by multiplying the assessed value of the property by the tax rate for the code area in which the property is located.

Banks, Savings & Loan Associations, Credit Union: The institutions total 15 banks, 15 savings and loans, and two credit unions, with total assets in excess of $350 million.

Radio and Television: Five Grants Pass area radio stations - KAJO, , KLDR, KAGI, KFMJ, KRWQ and KCNA AM & FM.

Four Medford television stations, KTVL, KOBI, KDRV, and public station, KSYS. Information in this guide was gathered from numerous sources. To the best of our knowledge it was accurate at the time of printing.

Ground Transportation: Grants Pass Cab, 541-476-6444; Airport Transit Service, 541-479-3217 for service to airport; Starline Limousines, 541-476-7827 for service to all Oregon points; Greyhound/Trailways bus lines, 541-476-4513; Amtrak, 541-844-2822 (Klamath Falls) with shuttle service to Grants Pass via York Tours (541-779-1068).

Auto Rentals: Budget Car and Truck Rental Center, 541-471-6311

Recreation Dept: Youth & adult recreation program information at 541-476-6435.

SCENIC DRIVES
Redwood Hwy., U.S. 199

Hwy. 238, Jacksonville, Ruch

MERLIN-GALICE AREA
Merlin & Galice
Hellgate Canyon: Scenic viewpoint overlooks Hellgate Canyon and the Rogue River 250 feet below. Hellgate - 10 miles. Indian Mary Park: Large, scenic park and campground, beach access, boat ramp, showers, baseball diamond, picnic sites, playground. Indian Mary Park - 12 miles. Galice: The small town of Galice is a popular luncheon stop for fishing enthusiasts and rafters on their way down the Rogue River. Galice - 15 miles. Grave Creek Bridge: The bridge marks the beginning of the "Wild and Scenic" section of the Rogue, from which three-day raft trips begin. It marks the end of one-day raft trips. Bridge - 18 miles.

ROGUE RIVER HIGHWAY
Savage Rapids Dam: During the seasonal runs, steelhead and salmn can be seen climbing the fish ladders at the dam. Dam - 6 miles.

UPPER AND LOWER RIVER ROAD
Whitehorse Park: Take G Street west to Upper River Road, which turns into Lower River Road leading to Whitehorse Park. The lovely park offers picnic sites, hiking, beach access, showers and campgrounds. 10 miles. Griffin Park: Large, steel bridge spans the Rogue. After crossing, turn left on Riverbanks Road and follow to Griffin Park. The park features picnic sites, beach access, boat ramp, camping and a playground. Turn left onto Griffin Road. Continue on Riverbanks Road to Redwood Highway. 15 miles.

WILLIAMS HIGHWAY
Applegate Valley: Take Williams Hwy. 238 South through the Applegate Valley. Stop at area wineries and the Applegate Dam. Continue on into Jacksonville. Take Old Stage Road north to Gold Hill and stop at the Oregon Vortex off Hwy. 234. Get on Interstate 5 north to Grants Pass. Round trip - 85 miles.

INTERSTATE 5
Covered Bridges/Historic Sites: Take Interstate 5 south and exit at the city of Rogue River. At the end of the exit ramp, turn left under the overpass and then left again on main street. Turn right on West Evans Road and take it into the town of Wimer to see the covered bridge. Continue your trip by driving northwest on Pleasant Creek Road for 3.5 miles to West Evans Creek Road north for 1.2 miles. Turn left on Ditch Creek Road and continue for 7 miles to Grave Creek Road, west, and the Sunny Valley covered bridge. I5 at exit 76 is the former route for Hudson Bay fur trappers, the Applegate Trail and the Oregon/California stage stopover and is still a popular stop for travelers to dine or overnight.

Lake Selmac: Fishing, boating, swimming, camping, groceries, boat rentals, licenses, horseback riding, Selma-23 Miles. Kalmiopsis Wilderness Area: Hiking, camping, wildlife, wildflowers, lakes, creeks, Illinois River. For more information: Illinois Valley Ranger District, P.O. Box 389, Cave Junction 97523. Kerbyville Museum: Early pioneer history, artifacts on logging and mining. Kerby - 26 miles. No admission charge. Open Mon. - Sat., 10 am - 5 pm, Sun., 1 pm - 5 pm, May 15-Sept. 15. Call 541-592-2076 for more information.

Cave Junction: Gateway to the Oregon Caves, Illinois Valley State Park on the Illinois River - swimming and picnicking, visit the Illinois Valley Visitors Center or call 541-592-2631. Home of the Wild Blackberry Festival. Cave Junction - 28 miles. Winery Loop: Enjoy tours and tastings at popular Illinois Valley wineries and vineyards - loop starts 5 miles east of town.

Oregon Caves: Marble cave formations, guided tours, chateau lodging, dining room. Caves National Monument - 20 miles from Cave Junction.

Rough & Ready Botanical Wayside: Unusual plant life, wildflowers, Rough and Ready Creek. Cave Junction - 7 miles south of town. Jedediah Smith Redwoods State Park: Smith River, short hiking loops, camping. 75 miles from Grants Pass. Smith River: U.S. 199 follows the river just south of the border to Jedediah Smith State Park. Crescent City: Public beach access, dining, lodging, camping. 86 miles from Grants Pass.

Brookings: Harris Beach State Park, camping, lodging, dining. 25 miles north of Crescent City on U.S. 101. Redwood National Park: 106,000 acre park, camping, hiking, trails, rivers, elk, world's tallest trees.

NEARBY ATTRACTIONS

CRATER LAKE
Crater Lake
For Information Call:
541-594-2211
The State's only National Park, half the fun of Crater Lake is the magnificent drive up to it. At the rim of the crater, visitors can marvel at the sight, hike around the lake or relax in the lodge. Each evening a program is put on by the National Park Service and employees of the lodge. Seasonal boat trips around the lake's 25-mile shoreline are also offered. The park, which is open all year, is a favorite of cross country skiers. Road crews work tirelessly to keep the road to the lodge open throughout the heavy snow season, while the north entrance and rim drive are closed.

OREGON CAVES
Oregon Caves
Cave Tour Information:
541-592-2100 or
541-592-3400
Only 50 miles from Grants Pass, Oregon Caves National Monument is located high in the Siskiyou Mountains east of Cave Junction. In addition to year-round cave tours, a rustic chateau with a dining room is part of the monument for the relaxation and enjoyment of visitors. For children under 6, who are not permitted in the Caves by government regulation, child care is provided.

APPLEGATE TRAIL INTERPRETIVE CENTER
Applegate Trail Interpretive Center
Offers a glimpse into the colorful history of this rugged area through the stories of the pioneer settlers, the naming of Grave Creek, the discovery of gold, the impact of the stageline, and the building of the railroad. Located in Beautiful Sunny Valley, Come visit the Center, Old Town Hall, The famous Covered Bridge and more!

THE REDWOODS
The Redwood Empire stretches from San Francisco into Southern Oregon. Visitors to Grants Pass who want to see the Redwoods may take the Redwood Highway, U.S. 199, southwest out of town heading towards Crescent City, California. Before reaching the coast, Jedediah Smith Redwood State Park will mark their entry into the Redwood Empire. The park provides campgrounds, hiking trails and access to one of America's cleanest waterways, the Smith River. Lush, dense fern growth on the forest floor with the towering Redwoods above guarantees visitors to the park an experience unique to our area.

For Business, Lodging, Real Estate & Recreation In This Town/City, Please Use Menu Above.